Aikido Academy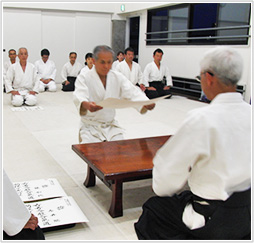 The Aikido Academy, which is the only Aikido school officially recognized by the Tokyo City Government, is a course offered separate from the Regular and Beginner classes at Aikido Hombu Dojo. This course is run as a small group lesson, meeting twice a week for 90 minutes each time, for a duration of approximately 5 months. This is not a full-time study course, and does not offer any special studies other than Aikido training. This course is not designed for special promotions or considerations.
There are three levels of study; Beginners, Intermediate and Advanced. Each of them begins instruction with the fundamentals, and is taught by the same instructors throughout the course.
Information for each course
Term
Day/Time
Number of
students
Qualification
Instructors
Fee
Beginners
Course
Apr. to Sep.
Oct. to Mar.
Mon & Thu
18:30-20:00
25
Above
18 years old
Kanazawa/
Umetsu
55000円
Intermediate
Course
Apr. to Sep.
Oct. to Mar.
Wed & Sat
18:30-20:00(Wed)
17:30-19:00(Sat)
25
Above
18 years old
4th/3rd/2nd
Kyu Holders
Suzuki/
Oyama
66000円
Advanced
Course
Apr. to Sep.
Oct. to Mar.
Tue & Fri
18:30-20:00
25
Above
18 years old
Above 2nd Kyu
Ito/
Satodate
66000円
Remarks
・Application for each course, should be submitted to the office soon after you fill out the application form.
・Capacity is limited, so please apply as early possible. Applicants will be notified by post regarding acceptance to
the course. If you receive notification of acceptance, please pay the tuition fee before the due date.
・Graduates of each course will be given certificates, and upon successful execution of grading examinations,
Aikido Kyu or Dan ranks will be conferred. Promotions are possible as follows: Beginners Course - up to 3rd Kyu;
Intermediate Course - up to 1st Kyu; Advanced Course - up to 1st Dan.
・Fee includes tax and textbook.
・No classes held national holidays.
・Classes are held on the 4th floor of Hombu Dojo.