Hombu Dojo Children's Class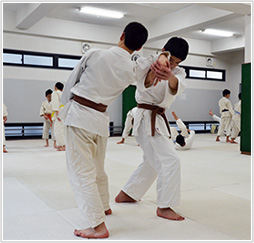 How is Aikido good for a child's physical and mental growth?

Aikido strengthens not only the body but also the mind and spirit. Your child will gain a strong sense of focus and self-confidence, while practicing in a friendly atmosphere. The instructors teach the children how to defend themselves without hurting others. Please complete the required information in the application form. Submit the form and appropriate fees to our office to start the admission procedure. (We accept registrations every day except holidays.)
※Due to the effects of COVID-19 this schedule is not in use. Please see "Instructors for each class"
Information
Registration Fee
8,800円
Monthly Fee
4,950円/month
Membership Fee
500円/month
Age
Junior
5 years old ~ 9 years old
Senior
10 years old ~ 15 years old
Class Schedule
Tue.
Fri.

Sat

.
Sun.
9:00
|
10:00
Junior
10:15
|
11:15
Senior
13:45
|
14:45
Junior
15:00
|
16:00
Senior
15:30
|
16:30
Junior
Junior
16:30
|
17:30
Senior
16:45
|
17:45
Senior